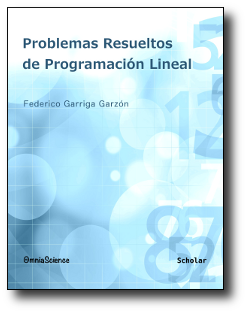 Since August the book titled Problemas resueltos de programación lineal written by Federico Garriga is available in digital format and completely free in Apple Store. Additionally one can buy a printed copy in some websites.
About the book:
This book is not only a book of solved exercises of linear programming for students, but a source of information for their resolution. The book can be useful to both students and professionals dealing with optimization activities, in private companies and also in government.
The exercises included in the book cover most topics related to linear programming such as: model formulation, graphical resolution, tabular simplex, revised simplex, duality, dual simplex method, the two-phase method, product form of the inverse, sensitivity analysis and simplex with bounded variables, through a practical approach.
Purchase a printed copy in:
Lulu - Amazon.es - Amazon.com - Amazon.de - Amazon.co.uk - Amazon.it - Createspace