OmniaScience Conferences offers secretariat services for scientific conferences. With our comprehensive services, we allow the scientific committee to focus their effort on its core job, releasing them from issues related with conference management and proceeding publication.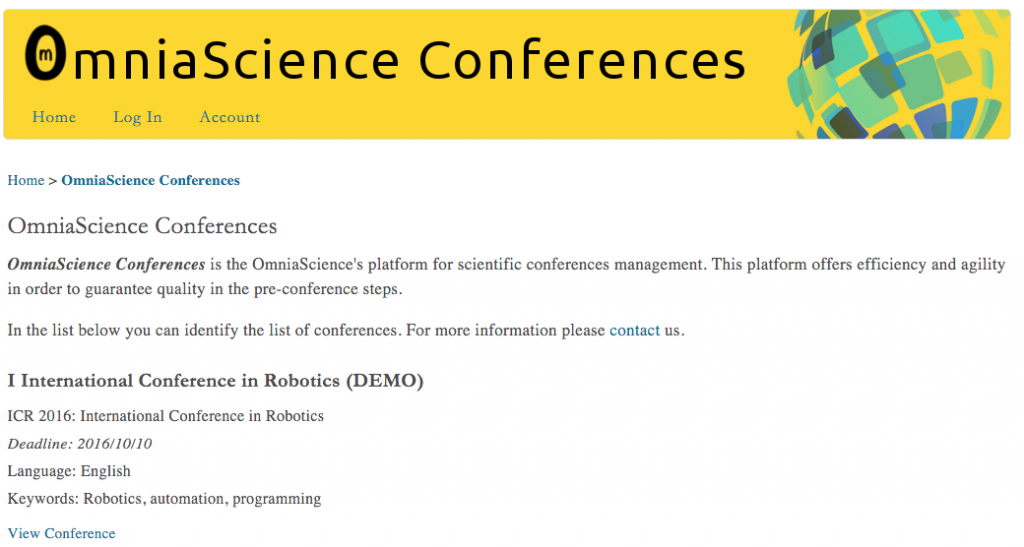 We have developed OmniaScience Conferences, a platform for scientific conference management. This platform offers efficiency and agility in order to guarantee quality in the pre-conference steps. This platform includes the following steps among others: reception of proposals or papers, assignment to the reviewers, peer-review process, acceptance / rejection …).
For additional information visit Products & Services >> Conferences Secretariat. For more information or personalized service, please contact us.
Conferences in which OmniaScience has participed:
Servitization
- Servitization 2018: VII International Conference on Business Servitization (Lisbon, Portugal). Book of abstracts: PDF – Print version (Amazon - Lulu)
- Servitization 2017: VI International Conference on Business Servitization (Barcelona, Spain). Book of abstracts: PDF - Print version (Lulu)
- Servitization 2016: V International Conference on Business Servitization (Granada, Spain). Book of abstracts: PDF – Print version (Lulu)
- Servitization 2015: IV International Conference on Business Servitization (Madrid, Spain). Book of abstracts: PDF – Print version (Lulu)
- Servitization 2014: III International Conference on Business Servitization (Bilbao, Spain). Book of abstracts: PDF – Print version (Lulu)
- Servitization 2013: II International Conference on Business Servitization (Granada, Spain). Book of abstracts: PDF – Print version (Lulu)
- Servitization 2012: I International Conference on Business Servitization (Barcelona, Spain). Book of abstracts: PDF – Print version (Lulu)
ACCID
- Jornada ACCID 2018: V Jornada  ACCID i APC (Vic, Spain). Book of abstracts: PDF - Print version (Amazon, Lulu)
- Congrés ACCID 2017: VII Congrés Català de Comptabilitat i Direcció (Barcelona, Spain). Book of abstracts: PDF - Print version (Amazon, Lulu)
- Jornada ACCID 2016: IV Jornada ACCID i APC (Lleida, Spain)
- Congrés ACCID 2015: VI Congrés Català de Comptabilitat i Direcció (Barcelona, Spain)
- Jornada ACCID 2014: III Jornada ACCID (Girona, Spain)
- Congrés ACCID 2013: V Congrés Català de Comptabilitat i Direcció (Barcelona, Spain)
WoodMusiCK
- COST FP1302 WoodMusICK (2016): 3rd Annual Conference (Barcelona, Spain)
- COST FP1302 WoodMusICK (2015): 2nd Annual Conference (London, UK)
Research Workshop (UIC)
- III Research Workshop (2018): Missions, leadership and sustainability (Barcelona, Spain)
- II Research Workshop (2016): Missions, leadership and sustainability (Barcelona, Spain)
LISS
- LISS2015: 4th International Conference on Logistics, Informatics and Service Science (Barcelona, Spain)
- LISS 2013: 3rd International Conference on Logistics, Informatics and Service Science (Reading, UK)
- LISS 2012: 2rd International Conference on Logistics, Informatics and Service Science (Beijing, China)
Other conferences
- I Jornada de Recerca EGE-UPC 2019. Book of abstracts: PDF – Print version (Amazon, Lulu)
- ICWS2017: I International Conference on Water and Sustainability (Terrassa, Spain). Book of abstracts: PDF – Print version (Amazon, Lulu)
- New Friends 2016: 2nd International Conference on Social Robots in Therapy and Education (Barcelona, Spain)
- VI International Workshop on Location Analysis and Related Problems (REDLOCA) (Barcelona, Spain)
- RIDITA2015: V congreso de La Red Iberoamericana de Investigación en Transporte Aéreo (Terrassa, Barcelona, Spain). Book of abstracts: PDF
- CIO 2012: 6th International Conference on Industrial Engineering and Industrial Management (Vigo, Spain)